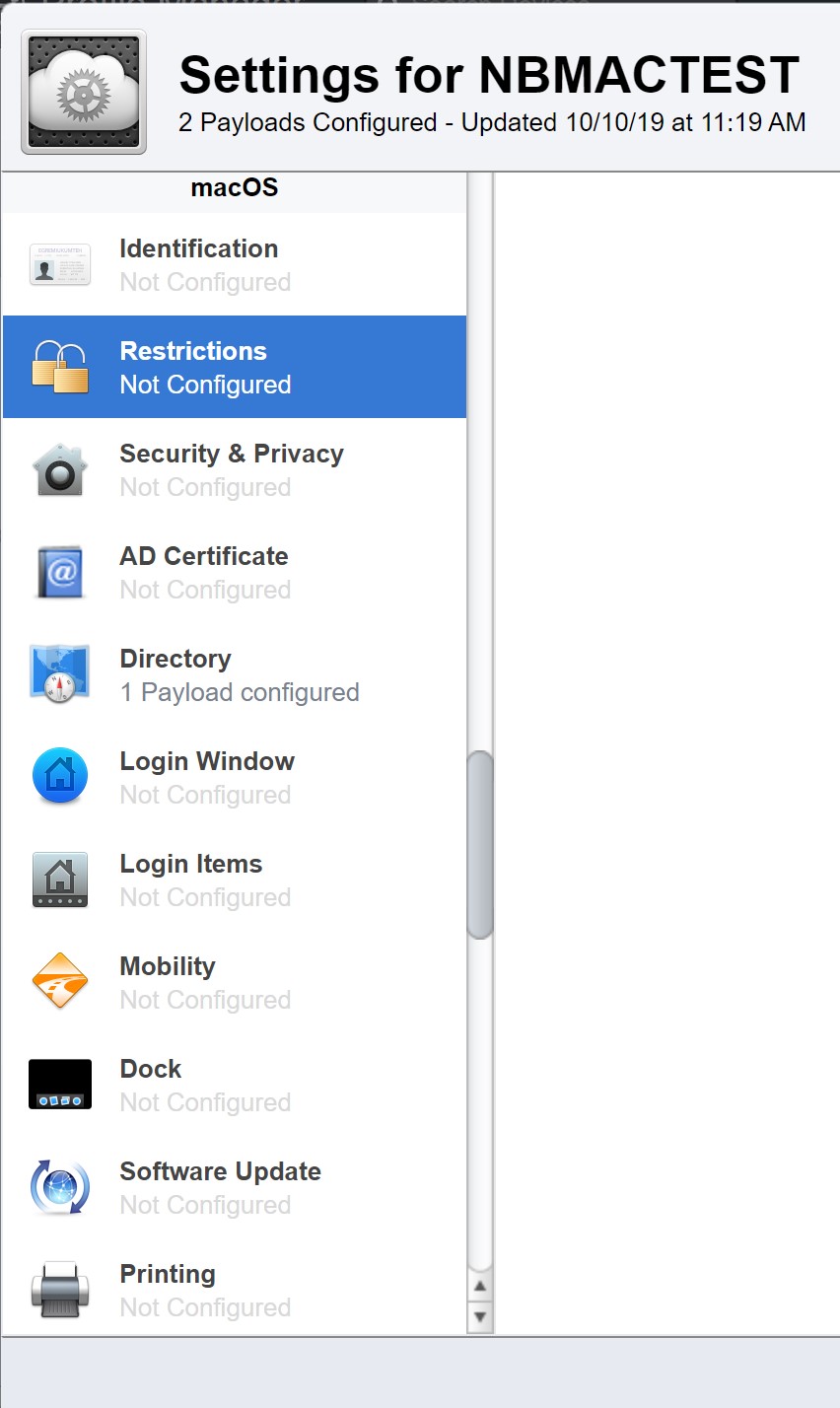 Simplify modern workplace management and achieve digital transformation with Microsoft Intune. Create the most productive Microsoft 365 environment for users to work on devices and apps they choose, while protecting data. Why choose Microsoft Intune Support your diverse mobile ecosystem. Download a sample script to install Company Portal for macOS from Intune Shell Script Samples - Company Portal. Follow instructions to deploy the macOS Shell Script using macOS Shell Scripts. Set Run script as signed-in user to No (to run in the system context). Microsoft Intune empowers you to achieve more with a great mobile experience, while protecting your company's data. Get started with these easy steps to enro.
Before directing users to register their Mac computers with Azure Active Directory (Azure AD), it is necessary to deploy Microsoft's Company Portal app.
Deploying the Company Portal app involves the following steps:
Download the Company Portal app from Microsoft.

Upload the Company Portal app to Jamf Pro as a package.

(Optional) Identify Mac computers that do not have the Company Portal app installed.

Deploy the Company Portal app to Mac computers.
On a Mac computer, download the current version of the Company Portal app for macOS from the Microsoft website.
Important: Do not install it, you need a copy of the app to upload to Jamf Pro.
The CompanyPortal_Installer.pkg file can be downloaded from: https://go.microsoft.com/fwlink/?linkid=862280
Upload the Company Portal app to a distribution point in Jamf Pro.

In Jamf Pro, navigate to Settings > Computer Management > Packages.

Create a new package that includes the Company Portal app and click Save.
In Jamf Pro, navigate to Computers > Smart Computer Groups.

Create a new smart group that identifies Mac computers that do not have the CompanyPortal.app from Microsoft installed.

Click Save.
In Jamf Pro, navigate to Computers > Policies and create a policy that deploys the Company Portal app to users.

Use the General payload to configure the following settings:

For Trigger, select 'Enrollment Complete' and 'Recurring Check-in'.

For Execution Frequency, select 'Once per computer'.

Select the Packages payload, and then click Configure.

Click Add for the package that includes the Company Portal app.

Configure the settings for the package.

Specify a distribution point for Mac computers to download the package from.

Click the Scope tab to specify Mac computers on which the Company Portal app should be installed.You may also use the smart computer group created in step 3.

Click Save.
Note: The policy runs on Mac computers in the scope the next time they check in with Jamf Pro and meet the criteria in the General payload.
Managing Packages
Find out how to create a package and upload a file to a distribution point in Jamf Pro.
Smart Computer Groups
Find out how to create smart groups in Jamf Pro.
Is there Intune for Macs®? Unfortunately, there isn't a short answer to this question. What we can say is that while Microsoft® Intune does support some functions for Mac, it really wasn't designed as a cross-platform system management solution. In general, the focus of Intune is directed towards mobile device management and mobile app management.
Microsoft Office 2019 for Mac Key Features. The innovative Design tab gives prompt access. Microsoft office crack download torrent.
What Does Intune Really Provide?
Intune Mam For Macos
Think of Intune as more of an alternative to VMWare's Airwatch® rather than Microsoft's System Center Configuration Manager (SCCM). Need a visual? Check out this diagram to see how the add-on fits into the bigger picture of Microsoft solutions.
The result is that while Intune can perform some functions on Macs, the concept of a platform that can dispense GPO-like Polices and commands for Macs isn't completely delivered from Intune. Instead, Intune's benefit is that it creates a framework for when devices can access Azure®-related data and applications. Intune, or a third-party solution, will send information back to Azure to decide its level of compliance. Note that implementing any device compliance capabilities requires the use of Azure AD as well as Active Directory® and SCCM if those are being used on-prem.
Intune Company Portal Mac Os
More Add-Ons Challenge macOS Management
The challenge for IT admins is that you need to find yet another solution beyond Intune and Azure AD to actually create the settings and manage the macOS device. For example, setting password complexity requirements, enabling FileVault, updating the OS, setting screensaver locks and more often need to be either handled manually by the IT admin, or by another solution all together. The result is that IT admins are now searching for additional IT management solutions beyond Intune and Azure AD (not to mention Active Directory and SCCM on-prem).
Philosophically, Microsoft's approach to identity and system management is quite different from what we believe IT admins are truly searching for. Microsoft's view is to create segmented solutions that are mostly focused on Windows and Azure, and then require additional solutions for non-Windows platforms. You can hardly blame them for doing so, but is this really the best approach for organizations that leverage mixed-platform environments?
For example, for Microsoft's identity management solutions, IT admins need Active Directory and the domain controller on-prem, and then AD Connect, Azure AD, Azure AD DS, and more, all in Azure. For system management, SCCM is utilized on-prem and then Intune is added on for mobile device management from the cloud.
Delivering Wide Access Control from the Identity Provider
Sometimes, people are led to think that access control to corporate data is a device management feature. We don't think of it that way because it isn't something that the mobile operating system provides. Rather, it's something the identity provider delivers. In this case, the identity provider associated with Intune is Azure Active Directory (Azure AD), Microsoft's cloud identity and access management (IAM) system, but it is Intune that is providing the conditional access to Azure resources.
Intune Company Portal For Mac
The JumpCloud® Directory-as-a-Service® platform takes the complete opposite view and is tightly integrating not only identity and access management, but system management as well. Further, macOS and Linux® are treated as first class systems similar to Windows, rather than being forced to find additional third-party solutions in Microsoft's ecosystem.
Moving Beyond Intune for Macs
If you're interested in understanding more about how Directory-as-a-Service compares to Intune for Macs, and would like to see how JumpCloud extends beyond just device management, give us a call or send us an email. One of our product experts will be happy to answer your questions or set up a demo. Furthermore, signing up to try Directory-as-a-Service is easy and free of charge for your first 10 users.